GOP presidential front-runner Donald Trump may not win the White House, but he's done something even more important: Inspired thousands — possibly millions — of hilarious Donald Trump Gifs and Vines. That's HUGE!
For those of you who don't know, Gifs are those images with short, looping animations that we see all over the Internet. Vines are similar, but unlike Gifs (which are silent), Vines are 6-second-long videos with audio.
Top 21 Funny Donald Trump GIFs, Vines & Videos.
Who's got time to find the World Wide Web's most hilarious Donald Trump Gifs and Vines? We've done it, so you don't have to. You're welcome.
1. Donald Trump Running Pink Penis Gif
The Donald as a giant penis running through the woods: If you don't get vertigo, it's funny as heck. Via Bing Bong.
2. Donald Trump Baby Gif
We bet Donald Trump still "really, really likes" this kid and thinks he's "great." By Vic Berger.  Kids can smell desperation.
Trump loves kids and kids love Trump. @realDonaldTrump #DonaldTrump (Vine by @VicBergerIV) https://t.co/Fypsqx61ds

— gregbrewster (@gregbrewster__) January 7, 2016
2 1/2. Bonus Donald Trump Kissing Kid Gif
This kid is about to vomit.  🤢🤮
2 3/4. Bonus Trump Kissing Kids Gif
She is thinking, please save me mom!  The therapy bills are going to be very expensive.
3. Donald Trump Eating Himself Gif
This meme was inspired by a Reddit Photoshop Battle, and it's definitely the weirdest and most hypnotic of our 21 Donald Trump Gifs and Vines. Via the Sun Times.
#BadSickDayExcuse I binged watched this Trump gif… I'm in a coma now!😱 pic.twitter.com/aBFgjxSK5N

— dorelita (@doreli12) January 4, 2016
4.  Donald Trump Faces Gif
LOL! The five faces of Donald Trump Gifs…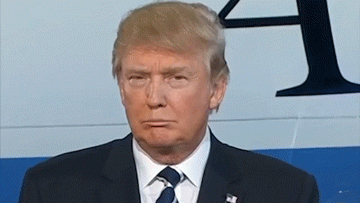 Donald Trump's face when Cruz answered the birther question.. #GOPDebate pic.twitter.com/hmCf9WKsdg

— ENUFF CED™ #MilanMob (@ifuaskmee) January 15, 2016
5. Donald Trump No Nose Gif
What is this thing?
5 1/2. Bonus WTF Trump Gif
Not in front of my friends dad.  What the F?  Keep your hands off your daughter sir.  Just why?
I can't unsee this when I look at Donald Trump's face #GOPDebate pic.twitter.com/AAeIa4G1Y4

— neko wafer (@notalyce) January 15, 2016
6. Trump Zombie Gif
Because everything's better with zombies, including Donald Trump.
how is Donald Trump going to make America great again if he couldnt even make his marriages great again? or his hair pic.twitter.com/pC12qIoE97

— Colin the Creator ✖️ (@ElBreito) January 12, 2016
7. Trump Googly Eyes Gif
His fans think this is hilarious. By Politico.
Donald Trump got really mad at his microphone https://t.co/tXXUar3Vgq https://t.co/Y8lFAmdpi0

— POLITICO (@politico) January 14, 2016
8. Donald Trump Hitler Gif
Here's one of our all-time favorites among the Donald Trump Gifs and Vines. We bet that when Mein Trumpf found out who let his hairpiece escape, there was hell toupée.
Trump's hair has had enough. pic.twitter.com/L0qcxMC1bL

— Aoife Wilson (@AoifeLockhart) January 14, 2016
9. Trump Putin Gif
There he goes again.
Donald Trump doubles down on Islamophobia. That is not who we are, America is better than that. #GOPDebate pic.twitter.com/VTuRg0b5YF

— Florida Democrats (@FlaDems) January 15, 2016
10. Donald Trump Build a Wall Gif
Donald Trump the Builder's going to make Mexico pay for that wall. By the cable turned off ¢ade.
Trump the builder 😁 https://t.co/I4GwDYAKwy

— Best Vines (@TheFunnyVine) January 14, 2016
11. Donald Trump Scared Gif
He wasn't "frightened." He was terrified.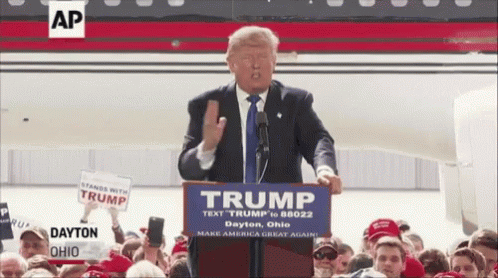 Trump: I was 'not really' frightened by that bald eagle https://t.co/A9oWN1nMzw pic.twitter.com/82l78mG1G2

— TIME.com (@TIME) January 15, 2016
Too funny!
We saw so many great Donald Trump Gifs and Vines, we couldn't stop at just one page.
12. Trump Applause Gif
Donald Trump thought President Barack Obama's State of the Union address was "boring?" We disagree.

Trump tweeting that #SOTU was "boring" pic.twitter.com/k0AHWvdYvp
— Elizabeth Plank (@feministabulous) January 13, 2016
13. Trump El Chapo Gif
After he learns El Chapo escaped, Donald Trump suddenly realizes how much he "loves the Mexican people." By Jaime Soliz.
When Trump realized El Chapo escaped 😂😂 #0-100realquick (Vine by @Jasoliz93) https://t.co/9AwodoqnPf
— Dabb Skywalker (@Aggaveli) January 5, 2016
14. Donald Trump Lobbyist Gif
Believe it or not, Donald Trump is talking about lobbyists. By CNN Politics.
15. Trump Racist Rapists Gif
He's not a racist? Sorry, we're not having that. By Not Jerry Springer.
Whatever you say Trump. (Vine by @_NotJerry_) https://t.co/yr3Fvxb7ga
— ♕ Rock (@NeonKees) January 6, 2016
16. Trump Mocking The Disabled Gif
Even if Donald Trump wins, and gets the world to stop laughing at America, we'll still be mocking him here at home.
Donald Trump on The Tonight Show (Vine by @actualGOP) https://t.co/eHt35l8kiA
— ale jan dro (@perez81697) January 5, 2016
17. Donald Trump Jeb Bush Gif
The GOP presidential front-runner's Twitter timeline summed up in one GIF.
90% of Donald Trump's TL summed up in one gif: pic.twitter.com/F4rmVGQQj4
— Matthew (@Matthops82) December 15, 2015
18. Trump Doll Doggy Style Gif
This is among the quirkiest of the Donald Trump Gifs and Vines. If Donald Trump has the same effect on world leaders as he does on these dogs, perhaps he really can "make America great again." By Allan.
These dogs obey Donald Trump!! #DonaldTrump #SitDOWN #dogs #hilarious #funny #dogtraining101 (Vine by Allan) https://t.co/F7hlgAMAum
— Kelly Campagna (@warriorwoman91) January 7, 2016
19. Trump Dancing Woman Gif
We love bad punnies.
Couldn't resist.. #DonaldTrump #Trump #Trump2016 #trumpet #photoshop #Election2016 #animatedgif #motiongraphics #gif pic.twitter.com/g5ebC1QaHU
— Ranaway (@RanawayStudio) December 22, 2015
20. Trump Watch Gif
Even a broken clock is right twice a day. By Holy Ryn Weaver.
DONALD TRUMP FINALLY SAID THE TRUTH! (Vine by @rynsclit) https://t.co/MrlHnPasiq
— avante garde (@alecxsweaters) January 5, 2016
21. Trump Poop Speech Gif
If the water were brown, it would better reflect Donald Trump's speech.
donald trump looks so cute on this gif pic.twitter.com/YLDEvbnsm2
(@arabomination) December 21, 2015
Another Funny Trump Gif
Trump Speaking Gif
Trump Dick Tater Gif
This one isn't a gif.  It's just plain funny AF!